Your supplier of central lubrication
PMB is among the most experienced in central lubrication with our 60 years of experience. PMB install complete lubrication solutions using SKF lubrication system. With central lubrication, the system ensures that your machine gets the amount of lubrication it needs while working. It is important that your machine is maintained with regular and proper lubrication in order for it to function efficiently and satisfactorily. With good central lubrication, you extend the life of both your bearings, bushings, feeders, and your machine as a whole.
You must choose central lubrication from us
10 quick for why you should choose central lubrication from us:
Improves machine productivity and efficiency.
Extends the life of bearings and bushings, and thus the life of the machine.
Drastically reduces repair and maintenance costs.
Saves animals "out of service" time, for both machines and staff.
Saves up to 40% lubricant, and therefore 

more environmentally

 friendly.
PMB always has a 

large stock

 of lubricating parts and pumps.
We have more than 60 years of experience in central lubrication.
We install central lubrication for all industries and industries and throughout the country.
Our service team can be on-site in less than a day, often faster.
PMB is so confident in the quality that we give a 

2-year guarantee

 on newly installed systems.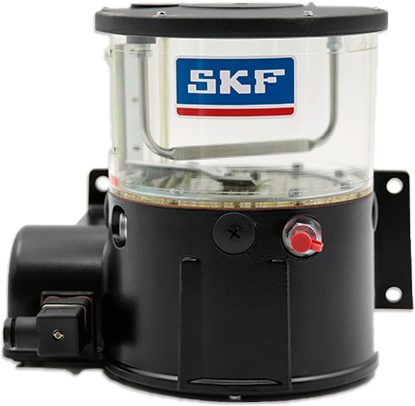 Central lubrication system with SKF components
PMB introduced Vogel central lubrication in Denmark in 1961. It started with central lubrication of presses, but the construction industry also quickly became interested, and central lubrication became a major business area for PMB.
For more than 60 years, PMB has provided solutions for central lubrication. We are among the most experienced in the delivery and installation of central lubrication systems. PMB ensures you the best lubrication solutions, as we sell quality components from the world's leading manufacturer SKF; with components that are proven and robust.
We are your complete and professional supplier of central lubrication, and advise on major benefits of a central lubrication system. We install complete lubrication solutions on construction machinery, cranes, trucks, tractors, industry, biogas plants and much more.
Many machines and systems today are lubricated with automatic central lubrication systems. For the machine to function satisfactorily and efficiently, it is very important that it receives regular maintenance. Here for regular and proper lubrication. There are several factors to consider when designing a central lubrication system, e.g. choice of equipment, lubricant, temperature, number of lubrication points, location and environment. It is a well-known experience that stable lubrication systems increase operating time and productivity.
Our competent and experienced employees are always ready to advise you and are happy to help you find the best solution that suits your needs and requirements.
SKF's central lubrication system for grease, NLGI Class 2, is specially developed for machines that work in demanding environments, with high requirements for operational reliability under the most difficult conditions imaginable.
 
System description
The central lubrication system consists of an electric pump, pump element, control unit, progressive distributors, high-pressure lubrication hoses and connections. The pump pause and pump time can be set individually depending on the conditions. The distributor blocks consist of elements with different dosages, which are adapted to each individual lubrication point.
 
Why choose SKF central lubrication on your machine?
Changing machine operators, time pressure and cumbersome service maintenance are commonplace for today's machine owners. No wonder lubrication is "forgotten" or at least not performed in accordance with the lubrication instructions. The consequence will be wear and tear, breakdowns, unnecessary expenses, expensive downtime with loss of income, which can lead to exceeded delivery times and maybe even lost jobs!


A central lubrication system from SKF extends service life
SKF central lubrication system extends the life of bolts, bushings and bearings several times because:
Lubrication takes place automatically.
The lubrication takes place when the machine is working, ie. when the bolts and bushings are in motion.
Each lubrication point receives a correct amount of lubricant, neither more nor less.
A "collar" of grease is placed around the lubrication point and protects against the ingress of dust and moisture.
SKF's central lubrication system with grease, NLGI class 000.00 is designed and adapted to all types of vehicles and accessories with high demands for flexibility and long service intervals.
Areas of application
Anlægget passer til alle typer af transport,- og lastkøretøjer, eksempelvis:
Trucks, trailers and trailers.
Buses.
Forklifts.
Sweepers/suction machines.
Renovation cars.
Sludge suckers etc.
System description
The central lubrication system consists of an electric pump, an electronic control unit, piston distributors, pressure switch, lubrication hoses and fittings. The lubrication intervals can be set depending on the driving conditions. The piston distributor pumps are equipped with easily replaceable metering nipple, which ensure individual dosing of the different lubrication points.
Functional description
The pump starts and pumps lubricant out to the distributors, which dispense the right amount of lubricant to the individual lubrication point. When the system has reached the correct pressure, the pressure switch (which is placed at the end of the system) sends a signal to the control unit, which stops the pump. The system lubricates during the pressure relief through the benefits' unique relubrication function.
Areas of application, accessories
The system is flexible and easy to mount on all types of accessories, for example:
Hoist and slider bar.
Cranes and lifts.
Lift tailgate etc.
Why apply central lubrication to your agricultural machinery?
You save yourself a lot of trouble and cost!
A central lubrication system provides an exact amount of lubricant at certain intervals while the machinery is in operation and all the bearings are moving!
bestemte intervaller, mens maskineriet er i funktion og alle lejerne bevæger sig!
Automatic central lubrication:
Improves the operational reliability of the machinery
Extends the life of the bearing at least 4 times
Means drastic reduction in maintenance and repair costs
Reduce costs due to shorter downtimes for both machines and personnel
Spare ca. 40% lubricant
Is environmentally friendly
Why apply central lubrication to your machines?
You save yourself a lot of trouble and cost!
There are machines of all kinds in the industry, and most should be lubricated regularly so that bearings, rollers, and guides can hold. With an automatic lubrication system, just fill the container, then do the rest yourself. There are lubrication systems that can drip lubricate, press oil or grease into a bushing, lubricate with a brush on e.g. a chain, almost "spitting" an oil drop into or on the lubrication point as well as a minimal lubrication system for e.g. processing machines. The vast majority of machines in need of lubrication can be met by SKF and thus by PMB. A good way to avoid breakdowns, unnecessary wear and tear and keep production going without the expensive production stops.
Contact our technicians directly
Do you have any questions or other inquiries?
You are more than welcome to contact us, with your question, search for advice and guidance or anything else.
We really want to help you and are always available!